Program Mission
The mission of the Johns Hopkins Department of Emergency Medicine Residency Program is to foster the clinical, humanistic and professional development of today's residents so that they will become tomorrow's leaders.
Program Aims
Recruit top candidates from a diverse applicant pool.
Under experienced mentorship, inspire residents to develop passion and expertise within a niche in emergency medicine.
Produce compassionate and engaged physicians who care and advocate for their patients and communities.
Train well-rounded and versatile clinicians who treat all patients seeking care.
Create an environment that promotes a focus on wellness and resiliency.
Develop critical skills around lifelong learning.
Nurture future leaders in emergency medicine and beyond.
Program at a Glance
The Johns Hopkins Emergency Medicine Residency Program is one of the oldest and most dynamic in the country, offering residents the opportunity to work and learn in a large urban hospital setting surrounded by some of the brightest medical minds in the world. Residents have access to a broad range of opportunities at the many campuses of the Johns Hopkins Health System in Baltimore, Maryland.

Our unique four-year program provides residents with the opportunity to spend their final year of training focused on an area of interest so they can develop specialized expertise. Fourth year residents take on the schedule of a typical academic physician while working under the guidance of a dedicated faculty mentor to become skilled in one of many emergency medicine subspecialties. We call this Focused Advanced Specialty Training.

While there's no question our residents have many exciting challenges, they also form strong friendships with their peers and lasting professional relationships with the Johns Hopkins faculty. There is also ample time to enjoy Baltimore—a cultural gem and one of the most charming cities on the East Coast.

At the end of the day, the goal of the residency program is to challenge, engage and inspire our residents to emerge as world class leaders in emergency medicine and beyond.

The Johns Hopkins Emergency Medicine Residency transitioned from a three-year to a four-year program in July 2008. Our four-year curriculum allows residents to enjoy significant augmentation of academic and specialized experiences, which have become increasingly necessary as our specialty continues to evolve.

The Johns Hopkins four-year program, called FAST, is unique in the country. The fourth year follows the format of a traditional subspecialty fellowship. Since many fellowships are two years long, one major advantage to the program is that the FAST track chosen may be considered equivalent to the completion of an entire year of a fellowship (similar to advanced placement) at Johns Hopkins. Further subspecialty fellowship training in the area chosen, should it be pursued, is one year less than the standard program.

Johns Hopkins has developed formally approved fellowships, and the FAST tracks align with most of these fellowship areas. They are: administration/leadership, disaster/austere EM, EMS, global emergency services, international EM, medical education, observation medicine, palliative care, pediatric EM, research, science of health care delivery, social EM, tactical medicine, toxicology and ultrasound.

Declaration of the FAST track chosen by a resident can occur as late as the third year, allowing the resident to fully explore the possibilities before committing to an area of focus. Once in the fourth year, each resident works clinically in the ED for a total of 1,080 hours annually in both primary patient care and supervisory roles. Residents spend the remainder or their nonclinical time working toward completion of the goals and objectives of their track(s). We believe this longitudinal yearlong experience enables residents to be productive and offers ample opportunity for participation in research, teaching, course work in our school of public health, international electives and other opportunities.

Residents graduate from our emergency medicine training program not only as excellent emergency physicians who are equipped to practice in any setting, but also as academicians who have begun to develop a niche within our ever growing specialty.
Faculty Leadership
Program Director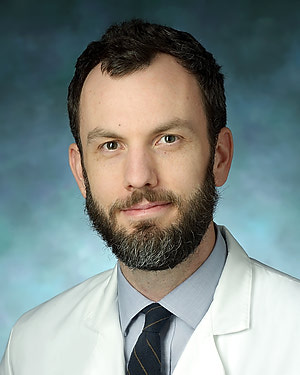 Program Director, Emergency Medicine Residency
Program Director, Combined Emergency Medicine-Anesthesiology Residency
Assistant Professor of Emergency Medicine
Associate and Assistant Program Directors
Associate Program Director, Emergency Medicine Residency
Associate Professor of Emergency Medicine

Associate Program Director, Emergency Medicine Residency
Assistant Professor of Emergency Medicine

Assistant Program Director, Emergency Medicine Residency
Assistant Professor of Emergency Medicine
Watch the Residency Program Videos
Johns Hopkins EM: For Residents by Residents
Johns Hopkins Emergency Medicine Program presents a video created by residents for future residents to showcase the program from the residents' perspectives.
A Day in the Life in the Johns Hopkins Emergency Medicine Residency Program
From training to care for patients to celebrating a special bond with a diverse team, find out what life is like as a resident in the Johns Hopkins Department of Emergency Medicine.
A Dynamic Residency Program
Johns Hopkins offers one of the most dynamic emergency medicine residency programs in the U.S. Watch the video to learn why.
Life in Baltimore, Maryland
Baltimore offers a unique blend of historic charm and urban vitality. From the dynamic Inner Harbor to the rolling horse estates on the edges of the city, Baltimore is a diverse community for people of all backgrounds and interests.