Nuclear medicine is a specialized service division within the Russell H. Morgan Department of Radiology and Radiological Science that utilizes radioactive material to assess the function of organs or systems within the body. The mission of the Division of Nuclear Medicine and Molecular Imaging (DNMMI) is to lead in discovery, teaching and application of methods in precision health for justly distributed and improved patient-centric care.
Nuclear medicine helps diagnose and treat many diseases, such as cancer, heart disease and infection by looking at organ function to get deeper molecular signatures in health and in disease. Techniques or modalities such as Positron Emission Tomography (PET) and Single-Photon Emission Computed Tomography (SPECT) administer small amounts of radioactive substances to the patient that serve as radiotracers.
These radiotracers map out organ function that can be fashioned into functional or molecular images. That creates more than just a picture of the organ, but an image that contains data that can be analyzed and presented. It is a quantitative (measurable) image. These unique images provide information that often cannot be obtained using other imaging procedures, such as CT or MRI, and offers the ability to identify disease in early stages.
Our team conducts a wide variety of procedures each year combining individualized care, specialty expertise and advanced technology.
For our diagnostic services, we offer state-of-the-art, precision imaging technology combined with expert interpretation to provide unparalleled patient care.
About Clinical Molecular Imaging
Recent technical advances have resulted in the combination of SPECT and PET scanners together with X-ray computed tomography (CT) in a single camera system. These hybrid systems yield maximal information and a complete set of pictures within a single noninvasive imaging study, by integrating molecular information from nuclear imaging with morphologic information from CT. Combined with approved radiopharmaceuticals these technologies allow clinical translation of quantitative molecular imaging of the brain.
Quantitative molecular brain imaging at the highest possible standard is thus available for the workup of suspected or known diseases of the brain such as dementia, epilepsy, tumor and Parkinsonism.
Nuclear Cardiology Imaging
To continue its longstanding history of leadership in biomedical imaging, the Johns Hopkins Division of Nuclear Medicine has recently enhanced and expanded its services with the most advanced nuclear imaging systems and additional expert clinicians. The novel SPECT/CT and PET/CT scanners now incorporate the most modern PET and SPECT detection methods with state-of-the-art multi-slice X-ray CT to increase diagnostic accuracy.
We offer cardiac imaging at the highest possible standard for the workup of suspected or known cardiovascular disease. Our program is continuously updated through incoming developments from our cardiovascular research program.
An unparalleled spectrum of nuclear imaging methods information can be provided even in the most challenging cases, to guide further clinical decision making based on reliable diagnostic and prognostic information. Virtually no patient is too small or too large for our services.
Myocardial Perfusion SPECT (including assessment of ventricular function) with routine CT attenuation correction
Myocardial Perfusion PET (including assessment of ventricular function) with CT attenuation correction
CT-Determination of Coronary Calcium Score (in combination with either SPECT or PET)
Myocardial Viability Assessment by Perfusion/Metabolism PET
Radionuclide Angiography (MUGA) (for reproducible quantification of left and right ventricular function)

Within recent years, a large body of evidence has accumulated to indicate that functional impairments are more closely related to development and outcome of heart disease than morphologic changes. Functional imaging techniques are thus often considered the superior methods to detect individuals at risk for cardiac events, to guide selection of appropriate therapy and to monitor the success of this therapy.

Nuclear imaging is a noninvasive functional diagnostic approach, which as single photon imaging, has been established for decades as a clinical cardiac tool. The distribution of bio-molecules, labeled with small doses of short-lived radioactive isotopes, is measured, allowing for assessment of myocardial perfusion, contractile function and metabolism. Single photon emission computed tomography (SPECT) is the standard technique, which provides high diagnostic accuracy, reliability and reproducibility. PET and the novel hybrid systems now available at Johns Hopkins are expected to increase accuracy even further, especially in large patients.

The most frequent, evidence-based clinical indications for nuclear testing are:

Detection/exclusion of coronary artery disease
Assessment of risk for cardiovascular events
Determination of functional relevance of known coronary artery disease
Monitoring of therapy for coronary artery disease
Myocardial viability assessment in heart failure/after myocardial infarction
Evaluation of global left ventricular function before and after chemotherapy
Evaluation of the synchrony of left ventricular emptying with phase analysis
Evaluation of right to left shunting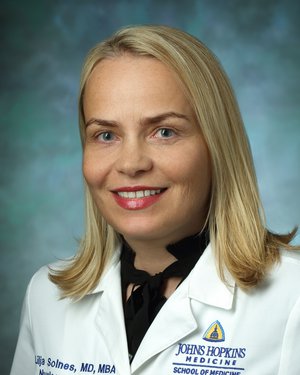 Director, Nuclear Medicine and Molecular Imaging
Director of Radiotheranostics
Associate Professor of Radiology and Radiological Science
Assistant Professor of Oncology
Research
Aligning with the mission of Johns Hopkins Medicine to improve the health of the community and the world by setting standards of excellence in clinical care, research and education, the DNMMI conducts research and develops educational programs and procedures to supply patients with the best and most innovative care.
The DNMMI research labs, includingThe Center for Translational Molecular Imaging, advances nuclear medicine and molecular imaging through pioneering discoveries and translational research performed by our research faculty and physician-scientists. Our experts continually discover new imaging agents as well as repurpose existing agents in novel and exciting ways. For example, the DNMMI is working closely with the Departments of Urology, Genitourinary Oncology, and Radiation Oncology to discover therapeutic agents for prostate cancer, with DNMMI agents already being issued worldwide to help patients manage this disease.
DNMMI currently works with partners such as the National Institutes of Health, key industrial partners, and academic collaborators worldwide to create programs to develop agents beyond the standard agents for PET and SPECT. Those collaborations assist in fostering the development of new medical imaging techniques, disease treatments and interventional procedures from basic discovery to clinical trials – including therapeutic trials. The division produces hundreds of publications yearly and garners millions in research funding as well as strong commercial ties and an extensive patent portfolio.
Research Highlights
The Precision Medicine Resource Center is a transdisciplinary enterprise that endeavors to develop and disseminate precision imaging and theranostic agents to impact patient-centric care. Nuclear Medicine researcher Stephanie Slania assisted in build of the Precision Medicine Resource Center at Johns Hopkins.
Our nuclear medicine residency program has been ranked No. 1 in the country on Doximity and US News and World Report for 2016. With the goal of training the next generation of leaders in molecular imaging, Johns Hopkins has created a combined residency training program in radiology and nuclear medicine.
Residents gain outstanding clinical training and participate in cutting-edge research programs that prioritize moving molecular imaging from laboratory-based studies to clinical translation of new imaging and theranostic agents and techniques.