Patient Story
Kidney Transplant: Neil's Story
Neil Emmott struggled with polycystic kidney disease for 15 years until a paired exchange program resulted in kidneys for him and seven other people.
Patient Story Highlights
For 15 years, Neil Emmott told few people about his polycystic kidney disease diagnosis.
When it came time for a transplant, he turned to Johns Hopkins, friends and the National Kidney Registry.
A paired exchange program resulted in kidneys for Neil and seven other people.
Neil Emmott, 55, is a husband, father of 12- and 8-year-old daughters, and a successful businessman who runs a yacht brokerage business in Fort Lauderdale, Florida. Raised in South Africa, he's traveled and lived all over the world. Despite building a worldwide network of clients and friends, Neil is a private man who prefers to fly under the radar.
That's why when he learned in 2001 that he had polycystic kidney disease (PKD), a genetic disease that eventually leads to kidney failure and the need for a kidney transplant, he told only a handful of people about the diagnosis.
"The diagnosis was a surprise because no one in my family had PKD," recalls Neil. "At that point, and for the first several years, my kidney function was high and I had no symptoms. I wasn't going to worry until I needed to."
Time to Find a Kidney Transplant Center
Neil's kidney function slowly declined, but it wasn't until April 2016 that it dropped to below 20 percent, which meant it was time for him and his wife, Lisa, to begin researching transplant facilities to find one they felt comfortable with.
They chose Johns Hopkins based on their experience with the hospital when they previously lived in Baltimore. Lisa had a number of surgeries there, and they had faith in the expertise of the surgical teams. Neil also had a Johns Hopkins nephrologist (a physician specializing in kidney care) following his condition.
Johns Hopkins Comprehensive Transplant Center surgeon Niraj Desai, M.D., says the hospital's reputation — especially for kidney transplants — is a draw for patients from around the world.
"Johns Hopkins leads the way in research and has pioneered many of the advanced procedures and techniques in kidney transplantation," says Desai. "This is where other transplant centers refer more complicated transplants."
Neil's kidney function dropped to 11 percent in April 2017, a level that meant he would soon need dialysis. It was time to find a donor.
The Realities of Finding a Kidney Donor
Like all people who need a kidney transplant, Neil had the option of a transplant with a deceased donor's kidney or one from a living donor. Both options present challenges when it comes to finding a kidney that is a blood and tissue match.
According to the United Network for Organ Sharing (UNOS), which manages the list of everyone across the U.S. waiting for an organ transplant, more than 95,000 people currently are on the waiting list for a deceased-donor kidney. They're facing at least an average three- to five-year wait, while they depend on a dialysis machine three times a week to do the work their kidneys no longer can.
Obtaining a kidney from a living donor eliminates that wait. Unfortunately, the number of people volunteering to donate a kidney doesn't meet the demand. In 2017, 5,811 people received a kidney from a living donor, saving only 20 percent of those waiting for one.
Desai believes lack of awareness about the impact of kidney donation — for the donor and recipient — is the main culprit behind the shortage of living kidney donors.
"People don't realize that living kidney donation is an extremely safe procedure. There's a low risk to donors or we wouldn't do it," says Desai.
Results from a 2015 Johns Hopkins study of more than 90,000 living kidney donors proved as much, revealing that donating a kidney didn't change donors' life expectancy.
"People also don't realize that kidney transplant doubles someone's life expectancy," says Desai. "That's a huge impact."
A myth about donation is that a willing donor and recipient have to match in order for someone get a kidney. If a person is healthy but not a match for an intended recipient, a paired kidney exchange, also known as a kidney swap, matches an incompatible donor/recipient pair with another incompatible donor/recipient pair.
The pairs register with organizations such as the National Kidney Registry that match living kidney donors with recipients from a vast database of other incompatible pairs.
"The earliest paired exchanges were done at Johns Hopkins — we had the first registry in the U.S.," says Desai. "Today we work primarily with the National Kidney Registry."
People don't realize that living kidney donation is an extremely safe procedure. There's a low risk to donors or we wouldn't do it.

Niraj Desai, M.D., Johns Hopkins transplant surgeon
The Search for a Living Donor Begins
Of the handful of people who knew Neil needed a transplant, his wife and his brother were willing to donate but couldn't due to health conditions. Neil would have to open up and let people know about his need, a tough request for a private man who wasn't used to asking for help.
He had a tireless advocate in Lisa, who got to work spreading the word. She became active on social media and a website where people share health information and needs in one centralized place. She also did community outreach, speaking before a men's group in which her husband is a member.
"Privacy has an expiration date," says Lisa. "A conversation can save a life. You have to raise awareness and cast a wide net. People who want to help will rise to the occasion."
And they did. People from seven countries and four continents, from close friends to complete strangers, came forward and enrolled at Johns Hopkins as willing donors for Neil.
His case was unique — two donors were ultimately approved to donate a kidney to him through the National Kidney Registry paired exchange program. Neil and these two donors became part of a 16-person chain (eight donors, eight recipients) of transplant surgeries at Johns Hopkins in late 2017. Neil and seven other people from across the country received new kidneys.
Life With a New Kidney
The Emmotts agree that choosing Johns Hopkins put them in the best hands.
"The knowledge, expertise and wisdom of everyone at Johns Hopkins was second to none," says Neil. "Everyone was diligent and caring, down to the techs who took my vitals at 4 a.m."
Lisa adds, "Dr. Desai was phenomenal. He gave Neil the surgical excellence he deserved in the operating room, and gave us the attention we craved in the recovery room."
Neil says that after the transplant he felt better immediately and his energy levels came racing back.
"Before the transplant I was sleeping 10 hours a night and waking up exhausted," he says. "I realized after the transplant how bad I had really felt."
Lisa is grateful to have the ordeal behind them.
"It was the toughest season we've ever faced," she admits. "Finding the kidney was the hardest part of the journey."
She's using their experience to help other people navigate their journeys. She's working to increase awareness about paired kidney exchange and how to use tools such as social media.
"Help is right outside of your comfort zone," she says. "We need to educate and empower people, teaching them how to ask for a kidney and how to give a kidney."
Desai says the Emmotts' experience was a success in many ways.
"It illustrates the power of living donation and paired exchange," he says. "Two generous living donors were willing to step up and be tested, which led to transplants for multiple recipients."
Neil's Kidney Transplant Surgeon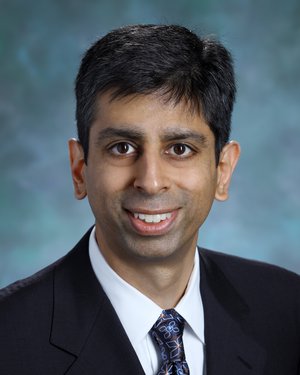 Surgical Director, Kidney and Pancreas Transplant
Expertise: Abdominal Surgery, Kidney Transplant, Pancreas Transplant, Pancreatic Auto Islet Transplant, Transplant Medicine
Kidney Transplant at Johns Hopkins
The Johns Hopkins Kidney Transplant Program provides comprehensive kidney treatment for all patients. Our research has led to breakthrough innovations for those with renal failure.