Patient Story
Ovarian Cancer: Tara's Story
A talented artist benefits from self-care, compassion, and advanced treatment for ovarian cancer.
Patient Story Highlights
Tara Mulder was diagnosed with ovarian cancer at age 49, and was referred to Johns Hopkins for treatment.
She underwent extensive surgery and intraperitoneal (IP) chemotherapy.
With patience and self-care, Tara has regained her health and resumed her life.
Tara Mulder's artwork vibrates with texture and energy. The 49-year-old painter and former art teacher works with acrylics and oils, and makes mosaics out of dried paint strips. The abstract pieces are alive with color, reflecting the spirituality that Tara says inspires them.
In April 2018, Tara had a sudden abdominal pain and signs of infection. Thinking she might have appendicitis, her primary care practitioner sent her to a local emergency department in an ambulance. Imaging showed an 8 centimeter by 10 centimeter mass attached to her left ovary, and a cyst on the right one.
Tara was referred to Johns Hopkins gynecologic oncologist
Rebecca Stone, M.D., M.S.
for surgery.
"I met Tara on May first," Stone says, "and given her young age and [test results] I wasn't too suspicious that the growth was cancerous. Still, we took her case seriously and had her in the operating room within 10 days of meeting her."
Stone and her team started with a minimally invasive (laparoscopic) approach and took a sample from the surface of the mass. They sent the sample to the pathology laboratory while Tara was still in the operating room. The lab determined that Tara had cancer. With this new information, the surgical team switched gears and performed a much more involved procedure to remove all the cancer.
Stone says, "Tara had an ovarian cancer that arises from the surface of the ovary — the most common type. High grade cancer means that the tumor is likely to grow and spread quickly. But her tumor was of a type that is very responsive to chemotherapy and a special type of maintenance therapy to reduce the chance of a recurrence."
That chemotherapy would involve 18 rounds. Tara didn't panic. "Dr. Stone was confident, so I was confident, too," she says.
'Washing Machine' Chemotherapy for Ovarian Cancer
Tara underwent a treatment called intraperitoneal (IP) chemotherapy, which was pioneered at Johns Hopkins and can be useful for ovarian cancer.

Stone says because ovaries are not fixed in the abdomen and can move about, cancer that affects the ovary's outer skin — like Tara's — can shed cancer cells all over the abdomen.

"I pictured it like glitter," Tara says. "It's hard to catch every flake."

IP chemotherapy is designed to reach all of the areas in the abdomen where cancer cells might be hiding. Tara refers to the treatment as "the washing machine."

Over the course of several hours, the chemotherapy drug, mixed with fluids, was infused right into Tara's abdomen through a catheter. The final step was rolling Tara up onto her side and flipping her every 15 minutes so the medicine could wash around every organ, nook and cranny.

"That was the spin cycle," Tara jokes.
Compassionate Care, Encouraging Response
Tara's treatment took place at the Skip Viragh Outpatient Cancer Building on the The Johns Hopkins Hospital campus.

"I had an incredible experience there," she says. "Randy and Tony, who worked in the garage, welcomed me every time I came in, smiling and showing me to my parking place. The people at the registration desk were warm, joyful, genuinely caring. Jazmen, one of the technologists, was amazing."

Tara says one nurse, Sharon Gerber, R.N., was particularly supportive: "She was so kind, so patient and so joy-giving. I can't imagine what my cancer experience would have been like without her."

Tara finished her "washing machine" chemotherapy in October. "I had to delay the last cycle because of some side effects," she says, "but they modified that last one so it was less intense."

On Nov. 1, Tara got a phone call: Tests showed no evidence of disease.

"When I got that call, I contacted my best friend, who was visiting in the area for work," Tara says. "I texted her while she was at her meeting in D.C. and picked her up at the train station. She had flowers for me and we celebrated at a favorite restaurant."
Spirituality, Community, Art and Self-Care
"Tara's an incredibly resilient person," Stone says. "She enjoys life and lives in the now. She's not obsessing about the past or the future. Her focus on self-care is so important: eating well, sleeping, taking care of herself.

"She was scared at first — who wouldn't be? But she never let it overwhelm her."

Tara says her religious faith sustained her through the tough times: "Family and friends blessed me with prayer and support." As part of a close-knit church, she says neighbors and fellow parishioners provided rides and meals, and even mowed her lawn.

Tara also took her self-care seriously. "I reduced my work hours during chemo," she says, "and took time to take care of myself, rest and create. I poured into myself with good food, long walks."

She is grateful to Rebecca Stone and Johns Hopkins. "I couldn't imagine being treated anywhere else," she says.

Her advice to those newly diagnosed: "There are so many advancements. Go in ready to do battle, confidently — do not be resigned that there is nothing that can be done."
Tara's Oncologist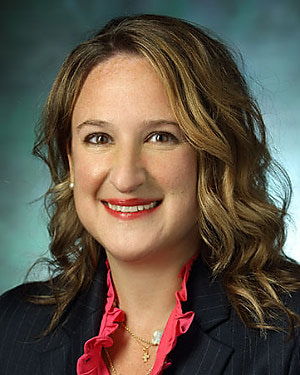 Director, The Kelly Gynecologic Oncology Service
Director, Enhanced Recovery after Surgery Program
Co-Director of the Johns Hopkins Fertility Preservation and Innovation Center
The Kelly Gynecologic Oncology Service
Our team of world-renowned surgeons, medical oncologists, researchers and cancer experts deliver personalized and comprehensive gynecologic cancer care that supports our patients on the journey to wellness and survivorship. We are recognized for our mastery of the most innovative treatments and surgical approaches and our contributions to advancing cancer care and treatment.