John P. Kostuik, M.D., Spine Research Fellowship
The John P. Kostuik, M.D., Spine Research Fellowship is designed for motivated 3rd or 4th-year medical students interested in gaining orthopaedic surgery research experience through an immersive program at one of the top academic medical centers.
Prior to establishing the John P. Kostuik, M.D. Spine Research Fellowship, the Department had a history of mentoring medical student research fellows for more than a decade under Dr. Kebaish's leadership. Former fellows include those who continued to orthopaedic residency at Johns Hopkins Medicine and are now in private or academic practice in spine surgery.
Fellowship at a Glance
Program duration: one year
Eligibility: applicants should be completing their third or fourth year of medical school (in rare circumstances, uniquely qualified students finishing their second year may be considered).
How to Apply

Application Materials

Cover Letter
CV (Include Step 1 and/or Step 2 scores)
Letter of Recommendation

Application materials should be emailed to [email protected] with the subject line "Research Fellowship Application"

Application period: January 1 - March 31 (11:59 PM EST).
Program Components
During the program, spine research fellows can expect to be involved in:
Designing research hypotheses and performing systematic reviews
Drafting, submitting and maintaining IRB proposals
Collecting clinical data and performing statistical analyses
Assisting with clinic duties (2 days/week), such as enrolling patients into prospective trials and following-up with active enrollees
Work closely with Spine Surgery Division faculty
Managing departmental database
Preparation and submission of research manuscripts
Meet Our Fellows
Andrew Kim (2023-2024)
Medical School: Penn State College of Medicine, Pennsylvania
Undergraduate school and degree: Boston College; B.S. in Biology
Hometown: Montville, New Jersey

"The Kostuik Fellowship has played an integral role in shaping my desire to pursue an academic career in orthopaedic surgery. Under Dr. Kebaish's mentorship, I have learned how to conduct impactful research and how to design provocative research hypotheses. In addition, the clinical exposure has given me the opportunity to further expand upon my clinical skills and understanding of spine surgery. The fellowship has also connected me with former fellows who have provided me with invaluable insight and mentorship. I am extremely grateful to Dr. Kebaish for this opportunity, and I am excited to contribute to the Kostuik Fellowship."
Before medical school, Andrew conducted research at New York Orthopedics. He enjoys weightlifting, tennis, golf, Boston sports, and eating rice.
Juan A. Silva Aponte (2022-2023)
Medical School: San Juan Bautista School of Medicine, Caguas, Puerto Rico
Undergraduate school and degree: University of Puerto Rico, Cayey Campus
Hometown: Aibonito, Puerto Rico
"My time as the John P. Kostuik Spine Research Fellowship with Dr. Khaled Kebaish has been a truly transformative experience. This fellowship has provided me with extensive clinical and surgical knowledge, further fueling my passion for orthopaedic surgery. Dr. Kebaish's unwavering commitment to mentoring medical students, residents, and clinical fellows has been truly inspiring. Working with him at a prestigious institution like Johns Hopkins has given me invaluable tools to grow as a researcher and future orthopaedic surgeon. His guidance and expertise have allowed me to develop my research skills and contributed to meaningful spine research. The Orthopaedic Surgery Department and Spine Surgery Division at Johns Hopkins have fostered a collaborative and supportive environment where I have formed meaningful relationships with colleagues, residents, and attendings, which have been instrumental in my growth. The John P. Kostuik Research Fellowship has been an unforgettable journey, and I am immensely grateful for the opportunity to be part of such a dynamic and inspiring community."
Before medical school, Juan was part of the Puerto Rico Karate-Do National Federation team, won national championships and competed in Central-American and Pan-American events. He enjoys beach days in Puerto Rico, hiking in El Yunque, and Karate-Do.
Kevin Mo (2021-2022)
Medical School: Western University of Health Sciences, California
Undergraduate school and degree: Stanford University
Hometown: Irvine, California
"During the interview process, I was struck by the commitment to mentorship that Dr. Kal Kebaish, Director of the Spine Division, and his network of former mentees demonstrated. This fellowship goes far beyond providing opportunities to learn and explore world-class research in spine orthopedics. I am looking forward to improving my research abilities, developing my relationships with mentors and colleagues, and deepening my understanding of spine surgery. I am so grateful to have this opportunity to spend a year with the amazing people here at Johns Hopkins Medicine."
From the Orthopaedic Surgery Department Chair, James Ficke, M.D.: "I have spent some time with Kevin talking about research and his time here so far, and I am impressed with his drive to learn about the orthopaedic surgery profession and his interest in using this year with us to absorb as much as he can. He is immersing himself with activities in the department and came well prepared to our Journal Club. I believe Kevin is a perfect person to serve as our inaugural Kostuik Fellow."
Before medical school, Kevin trained and competed alongside the US national fencing team from 2013 to 2017, won a national championship, and competed in Olympic qualifying events. He enjoys fencing, lifting, running, surfing, boxing, hiking, reading and traveling
About John P. Kostuik, M.D.
This fellowship program honors Dr. Kostuik, a recognized leader in orthopedic surgery for over 40 years. From 1991 to 2003, he served as the chief of spine surgery at the Johns Hopkins University School of Medicine and is professor emeritus. Patients, colleagues and trainees of Dr. Kostuik contributed to establish a fellowship in his name to commemorate his leadership and clinical excellence.
Dr. Kostuik is regarded as a leading teacher, surgeon and authority on spinal disorders. He is a founder, member and former president of the North American Spine Society, a former president of the Scoliosis Research Society, an honorary fellow of the Belgium and Japanese Orthopaedic Societies, and a fellow of the Royal College of Surgeons of Canada in Orthopaedics. He published more than 150 scientific articles, lectured in 38 countries and taught 150 fellows from ten countries.
Program Director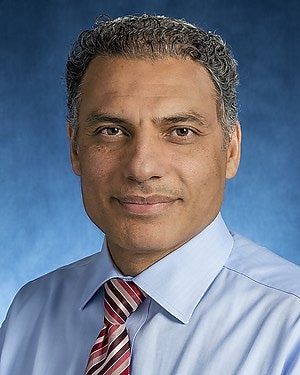 Division Chief, Orthopaedic Spine Surgery
Professor of Orthopaedic Surgery
Professor of Neurosurgery