Patient Story
Molar Pregnancy and Choriocarcinoma: Maggie's Story
Molar pregnancy, a rare pregnancy complication, led to uterine cancer and threatened Maggie's health and her chance of having a second baby. Effective treatment and caring experts made all the difference.
Patient Story Highlights
After Maggie had a miscarriage, she began experiencing troubling symptoms, which led to a diagnosis of molar pregnancy and choriocarcinoma.
Chemotherapy and compassionate support from her doctors helped her survive.
Maggie was able to become pregnant again, and give birth to a healthy daughter.
Debilitating Bleeding After a Miscarriage
Maggie, a Maryland resident, is a strong, take-charge professional who worked for over a decade as a partner strategist for a digital media company. She is used to solving problems and pivoting quickly when faced with an obstacle.
In 2017, hoping for a sibling for her 2-year-old daughter, Maggie got pregnant but experienced a miscarriage. In addition to her grief and disappointment, Maggie was suffering physically. She understood that a miscarriage could cause some bleeding, swelling and discomfort. But the severity of these symptoms told Maggie that something was wrong. She felt dizzy and nauseated, and was losing a lot of blood.
More tests revealed that, although no longer pregnant, Maggie had very high blood levels of the pregnancy hormone human chorionic gonadotropin (hCG) — similar to those in the sixth month of pregnancy.
She underwent an emergency dilation and curettage (D&C) and as difficult as that was, Maggie was grateful that a hysterectomy was not necessary.
On a Saturday, about three weeks later, Maggie was with other parents, watching their children on the soccer field. One of them was a Johns Hopkins surgeon who had heard about Maggie's ordeal and asked if she could refer Maggie to a colleague, Rebecca Stone, M.D, M.S.
Maggie, still feeling awful, agreed. Stone contacted her within an hour of the surgeon's call, and after asking some questions, arranged to see her that Monday.
Diagnosis: Molar Pregnancy and Choriocarcinoma
Tests revealed that Maggie had a molar pregnancy — a type of gestational trophoblastic disease (GTD). Molar pregnancies are rare, affecting about one in 1,000 pregnancies. There are different types, but each one is characterized by an overgrowth of trophoblasts, the cells surrounding the fertilized egg that help it adhere to the lining of the uterus and that play a role in the development of the placenta.
In molar pregnancy, the trophoblasts grow out of control and form masses that rapidly fill the uterus and secrete high levels of hCG. Molar pregnancies do not result in the birth of a baby. In most cases, molar pregnancies are benign, but in 15% to 20% of cases, including Maggie's, the trophoblastic tissue becomes invasive or even cancerous, resulting in gestational trophoblastic neoplasm (GTN). Choriocarcinoma is one type of GTN.
By the time Maggie got the diagnosis, the choriocarcinoma had metastasized (spread) to her lungs. Though choriocarcinoma treatment is most often effective, the diagnosis can be life threatening, and immediate treatment by a gynecologic oncologist is essential.
"I'd call Dr. Stone, freaking out," says Maggie. "As the mom of a young kid, I was definitely afraid. But Dr. Stone kept telling me we'd solve this."
Expert Help at an Advanced GYN Cancer Center
"Dr. Stone is on a team of world class experts and consulted with them. They told me they were confident the cancer could be treated," Maggie says, "and that meant a lot."
She understood that she was lucky. "People do die from this disease," she says, noting that in her social media support group, some members with choriocarcinoma have not survived.
Prompt diagnosis helps. Stone advises anyone with abnormal vaginal bleeding after any type of pregnancy (even miscarriage) to get evaluated for a molar pregnancy, especially if the bleeding is associated with pelvic pressure and nausea. The first step is a simple urine or blood pregnancy test to detect abnormal hCG levels, and after that, imaging can confirm masses of trophoblast cells.
If the tissues are malignant, as in the case of choriocarcinoma, cancer treatment may be called for, but the outlook is usually good. "Although being diagnosed with choriocarcinoma is very scary, the cancer tends to be sensitive to chemotherapy, and for most types of choriocarcinoma, treatment is successful," Stone says.
Advancing Research in Choriocarcinoma and Other Gynecologic Cancers

Maggie, keeping a positive attitude during her treatment
"Johns Hopkins is one of the places where cancers like choriocarcinoma have been most heavily studied from a pathology standpoint," Stone says. Because so many Johns Hopkins gynecologic oncologists are conducting research, their understanding of these diseases translates to the most modern approaches to care.
Unusual types of choriocarcinoma are among the cancers being studied by Stone and her colleagues, who include researchers studying how malignant cells behave. "Epithelioid trophoblastic tumors and placental site trophoblastic tumor are rarer types of gestational trophoblastic neoplasia and can be more chemo resistant, but new research in immunotherapy is very promising," Stone explains.
"The molecules that are targeted by immune therapy are the same ones that play a role in suppressing the immune system in a regular pregnancy so the fetus can grow," she says. "These markers serve to help the tumor escape immune reaction. If we block that signal, the immune system turns on and attacks the tumor. And that could be a game-changer."
Two Bouts of Chemotherapy for Choriocarcinoma
Stone recommended that Maggie start first-line chemotherapy right away. But the cancer was stubborn. After six months, Maggie still had symptoms and blood levels of hCG that indicated the tumor was not gone.
Stone switched Maggie to an alternate, more challenging regimen. Maggie spent three months receiving daily infusions through a port placed in her body. She lost all of her hair and had other side effects, including severe mouth ulcers that made it almost impossible for her to eat.
"But the support I got was amazing," Maggie says. "Even the lady at the chemo check-in kiosk would hug me every day I came in and encourage me." At one chemotherapy session, Maggie was having a tough day. She says Stone went to the infusion center to check on her.
"I was so thin, I looked like a toothpick. I was crying," Maggie says. "Dr. Stone walked me over to the inpatient unit for admission for an escalation in supportive care. There aren't a lot of doctors who go out of their way like that." Maggie was admitted and spent a week on a feeding tube to regain her strength.
The Kelly Gynecologic Oncology Service
The Johns Hopkins Kelly Gynecologic Oncology Service is a team of world renowned surgeons, medical oncologists, researchers
and cancer experts who use the most innovative treatments and surgical approaches to treat women diagnosed with a gynecologic cancer.
Surviving Cancer and Hoping for a Baby

Maggie and her family
Though grueling, the second chemotherapy regimen worked. Maggie even completed a precautionary round to make sure the choriocarcinoma was completely treated.
She was relieved, but also, she says, she was more determined than ever to try for the pregnancy that the choriocarcinoma and its treatment had delayed. "I was angry," Maggie says. "I had a year of chemo and had to wait a year to get pregnant again. I didn't want the cancer or the treatment to keep me from having another baby. My daughter was already asking about when the new baby would come."
Stone was empathetic. "Here is a young woman, with her life ahead of her, who wants another baby and has this happen to her," she says.
For women who experience cancer and want to become pregnant, Johns Hopkins' Fertility Preservation Innovation Center is a beacon of hope. There, Stone and other gynecologic oncologic surgeons work with fertility specialists such as Mindy Christianson, M.D., to give patients the best chance for healthy pregnancy and childbirth after cancer treatment.
"Dr. Christianson worked with me and assured me that there would be a plan for pregnancy as soon as I was ready to go, and that we'd make it happen no matter what," Maggie says. "It was so well coordinated — Dr. Stone and Dr. Christianson working together as a team within the same systems. Even when I was terrified, I knew that everyone knew what's going on and could see my labs and make sure nothing was missed."
After several sequences of assisted reproduction therapy with Christianson and another miscarriage, Maggie and her husband decided to take a month off from treatments and head to New Orleans for Mardi Gras. While on the trip, she got pregnant naturally.
Maggie was happy, but also worried.
At Last: "We Did It"
In April 2020, as the COVID-19 pandemic was shutting things down, Maggie held her breath in the ultrasound exam room, waiting for the results of her obstetric sonogram. Fearing more bad news, she'd been crying for days. But now, Maggie saw something on her caregivers' faces that she hardly dared to hope for: smiles.
The pregnancy looked normal. There was a heartbeat.
The team monitored Maggie carefully. As time went on, the baby girl, and everyone's hopes, grew. "She kept kicking and being strong," Maggie says.
In late October of that year, Maggie was in the delivery room, and at one point, recognized a familiar face. Garrett Koslan, R.N., M.S.N., who had been on the chemotherapy team and helped Maggie through her treatment, was now working in labor and delivery.
"Garrett is amazing!" Maggie says "He would always make sure he was giving me the chemo. He was keeping up with me through the pregnancy and we were so happy it all worked out that he was there for the birth! He is a great nurse and a special person."
With Christianson and Koslan in attendance, Maggie gave birth to a healthy daughter. "She's our little Hopkins miracle," Maggie says. "Right afterward, we sent the picture to Stone and said, 'We did it.'"
Stone says it was one of the best texts she's ever received, and keeps it on her phone for whenever she needs to be reminded of her life's purpose.
Caring and Expertise at Johns Hopkins

Maggie and her family
Maggie is still being monitored but continues to feel better. She is grateful for the skill and kindness of the many people at Johns Hopkins who helped her survive her cancer and achieve her dream of a second child.
"From the beginning stages, they were so exceptional," Maggie says. "I never had to wait too long for test results — Dr. Stone contacted me as soon as she knew them."
Maggie is especially grateful to Stone and Christianson, and how seamlessly their teams cooperated to save her life and support her pregnancy. "If they hadn't been so thorough," Maggie says, "something might have been missed.
"If you have to go through a scary situation, you want a team like this behind you."
Fertility Preservation Innovation Center
The Fertility Preservation Innovation Center provides advanced fertility preservation options backed by the latest scientific research. The collaborative team includes experts in infertility, gynecologic cancers, gynecologic surgery and research, who support patients through every stage of their journey to parenthood.
Meet Maggie's Treatment Team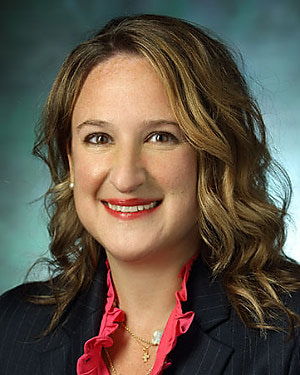 Director, The Kelly Gynecologic Oncology Service
Director, Enhanced Recovery after Surgery Program
Co-Director of the Johns Hopkins Fertility Preservation and Innovation Center