Multidisciplinary Care for
Hyperhidrosis (Excessive Sweating)
Hyperhidrosis, also known as excessive sweating, occurs when the nerve that controls sweating—the sympathetic nerve—is oversensitive and causes the overproduction of sweat.

We provide a holistic approach to treating hyperhidrosis and other dysautonomia conditions, disorders in the autonomic nervous system (ANS), through innovative genetic research and multiple treatment options for patients to restore their confidence.
Appointments and Referrals
Existing Patients
New Patients
Why Choose Johns Hopkins for Hyperhidrosis Treatment
Ongoing Research
Our researchers have discovered a gene that connects hyperhidrosis and other dysautonomia conditions, allowing us to provide more effective treatment options for you.
Multidisciplinary Care
Our program collaborates with specialists that treat other autonomic nervous system (ANS) disorders that may coexist with hyperhidrosis for optimal care.
More Treatment Options
We offer a full range of treatment options for hyperhidrosis including minimally and noninvasive surgical options for patients that continue to experience symptoms after taking medication.
Groundbreaking Discoveries in Hyperhidrosis Treatment
Hyperhidrosis Treatment Options

Malcolm Brock, M.D., thoracic surgeon, explains the multidisciplinary approach and treatment options for patients with hyperhidrosis, including microwave-thermolysis (MT).
Microwave Thermolysis for Hyperhidrosis (Excessive Sweating)
Watch hyperhidrosis expert Dr. Malcolm Brock discuss a noninvasive, nonsurgical treatment for excessive axillary (underarm) sweating called microwave thermolysis.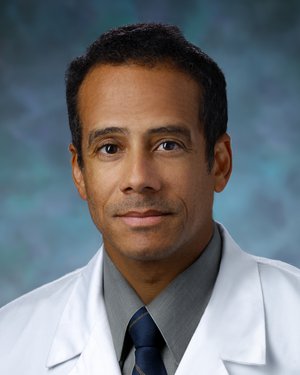 Director of Clinical and Translational Research in Thoracic Surgery
Professor of Surgery
Professor of Oncology
Anna George, Psy.D.
Pediatric Psychologist
Johns Hopkins Hospital
Division of Child and Adolescent Psychiatry
Joanna Rutkowski, B.S.N., R.N.
Center Administrator
Johns Hopkins Center for Sweat Disorders
Groundbreaking Research

A Multidisciplinary Approach to Hyperhidrosis Treatment

Hyperhidrosis and other autonomic nervous system (ANS) disorders like postural orthostatic tachycardia syndrome (POTS) may be linked from the same gene. Our research has discovered these conditions may run in families and can be a long haul symptom of COVID-19.

Our program provides multidisciplinary care for hyperhidrosis and other ANS conditions.
Remote Access to Care

Telemedicine Hyperhidrosis Services

Our clinic provides telemedicine services for patients experiencing symptoms or diagnosed with hyperhidrosis. Virtual visits can help you manage your condition with more ease and flexibility without having to leave your home.

Contact us at 443-997-1508 to request an appointment.
Locations
The Johns Hopkins Hospital
Patient Resources
You are being redirected to a website outside Johns Hopkins for informational purposes only. Johns Hopkins is not responsible for any aspect of the external website.