Gynecologic Subspecialties in Howard County
The Johns Hopkins School of Medicine Gynecology Subspecialty practice at Howard County offers a range of gynecologic services including specialized care in gynecologic oncology, minimally invasive gynecologic surgery and urogynecology.
Featured Videos
Ovarian Cysts | Q&A with Dr. Wang
Dr. Karen Wang, minimally invasive surgeon from the department of Gynecology and Obstetrics, answers common questions about ovarian cyst symptoms and treatment options.
Fibroids | Questions and Answers
Dr. Karen Wang and Dr. Kristin Patzkowsky, minimally invasive surgeons from the department of Gynecology and Obstetrics, answer common questions about uterine fibroids.
Myths & Misconceptions: Understanding Endometriosis and Uterine Fibroids Webinar
Some women who may be suffering from issues of the pelvic organs may learn that the problem is either from endometriosis or uterine fibroids. Learn from gynecologic surgeons, Dr. Kristin Patzkowsky and Dr. Harold Wu, as they dispel common myths and offer clarity around diagnosing these conditions and the treatment options available.
How to Find Us
Medical Pavilion at Howard County
10710 Charter Drive
Suite 200
Columbia, MD 21044
Campus Map
View the campus map (PDF) for detailed information about this location. 
Request An Appointment Request An Appointment
For Gynecologic Oncology
Request an appointment by calling us at 410-955-8240.
For Minimally Invasive Gynecologic Surgery or Pelvic and Bladder Health
Request an appointment by calling us at 443-997-0400.
Specialties at Johns Hopkins Howard County Medical Center
Our Team
Minimally Invasive Gynecologic Surgery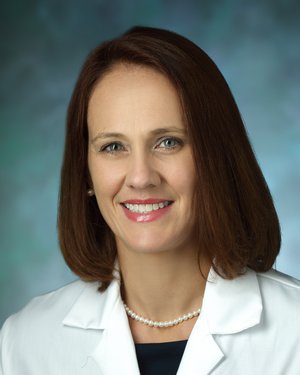 Director, Urogynecology and Reconstructive Pelvic Surgery Fellowship
Assistant Professor of Gynecology and Obstetrics