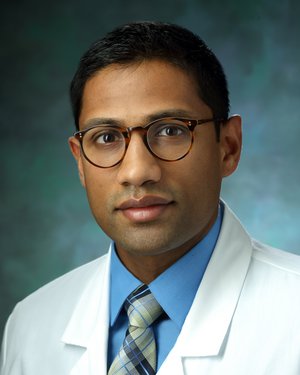 Principal Investigator:
Eellan Sivanesan, M.D.
Department:
Anesthesiology and Critical Care Medicine

Work in the Sivanesan Neuromodulation Laboratory (SNL) focuses on developing electrical stimulation therapies for treating neuropathic pain conditions and discovering novel applications for patients suffering from painful conditions. We study mechanisms of all modalities of spinal cord stimulation in the laboratory and aim to rapidly translate these discoveries to patient care. This bench to bedside approach facilitates a unique integration of the latest science with the clinical care of patients.
Research Areas: dorsal root ganglion stimulation, Spinal cord stimulation, neuromodulation, interventional pain management, translational research, intrathecal baclofen, peripheral stimulation, intrathecal pain pumps, chronic pain