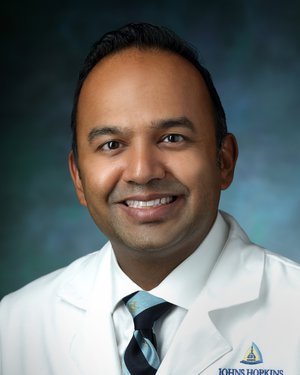 Principal Investigator:
Murray Ramanathan, M.D.
Department:
Otolaryngology - Head and Neck Surgery

Chronic rhinosinusitis (CRS) is a leading cause of morbidity globally and is the single most common self-reported chronic health condition and accounts for billions of dollars in health care costs and lost work days annually. Exposure to air pollutants is thought to be a critical modifier of CRS susceptibility. Despite marked reductions in air pollution levels in the United States, the fine particulate component of air pollution (PM2.5) and ultrafine pollutants secondary to traffic continue to remain a recalcitrant issue globally and in the United States. The Ramanathan Lab focuses on studying the role of air pollution (PM2.5) in CRS. In collaboration with scientists at the Bloomberg School of Public Health, we have utilized a state of the art air pollution exposure system to develop a novel mouse model of air pollution induced rhinosinusitis that mimics many of the features of CRS in humans. Our lab uses transgenic mouse models and novel immunologic/genomic techniques to study the mechanisms by which PM2.5 causes eosinophilic inflammation and sinonasal epithelial barrier dysfunction. We are also interested in the role of the antioxidant transcription factor, Nrf2, which has shown to stabilize the epithelial barrier and reduce eosinophilia in PM induced rhinosinusitis as a potential therapeutic target.
Research Areas: nasal polyps, Nrf2, sinonasal epithelial barrier function, particulate matter, chronic rhinosinusitis, epithelial damage, Air pollution