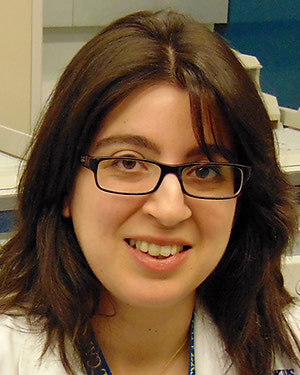 Principal Investigator:
Valsamo Anagnostou, M.D., Ph.D.
Department:
Oncology

Our Molecular Oncology lab seeks to understand the genomic wiring of response and resistance to immunotherapy through integrative genomic, transcriptomic, single-cell and liquid biopsy analyses of tumor and immune evolution. Through comprehensive exome-wide sequence and genome-wide structural genomic analyses we have discovered that tumor cells evade immune surveillance by elimination of immunogenic mutations and associated neoantigens through chromosomal deletions. Additionally, we have developed non-invasive molecular platforms that incorporate ultra-sensitive measurements of circulating cell-free tumor DNA (ctDNA) to assess clonal dynamics during immunotherapy. These approaches have revealed distinct dynamic ctDNA and T cell repertoire patterns of clinical response and resistance that are superior to radiographic response assessments. Our work has provided the foundation for a molecular response-adaptive clinical trial, where therapeutic decisions are made not based on imaging but based on molecular responses derived from liquid biopsies. Overall, our group focuses on studying the temporal and spatial order of the metastatic and immune cascade under the selective pressure of immune checkpoint blockade with the ultimate goal to translate this knowledge into "next-generation" clinical trials and change the way oncologists select patients for immunotherapy.
Research Areas: integrative mutli-omic analyses, Cancer genomics, liquid biopsies, tumor evolution, lung cancer, immunogenomic biomarkers