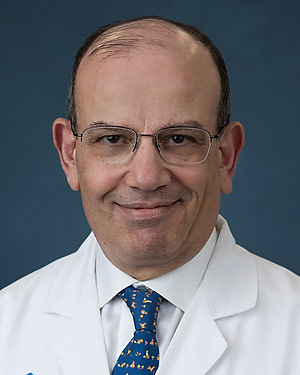 Principal Investigator:
Mohamed Atta, M.B.B.Ch., M.D., M.P.H.
Department:
Medicine

Dr. Atta and his research team explore the epidemiological and clinical interventions of a variety of kidney diseases. Our goal is not only to advance the understanding of many kidney diseases but also to capitalize on novel discoveries of basic science to treat a wide range of rare and common kidney disorders.


Multi-international observational study of a rare form of amyloid (LECT2 amyloid) to understand its natural history with the ultimate interest of treating this condition.
Our group has launched a project investigating the impact of COVID19 on the kidney to identify risk factors influencing outcome across different clinical phenotypes
In collaboration with the Division of Infectious Diseases and the School of Public Health, our research has focused on the epidemiology of HIV and kidney disease. We also study clinical markers and contributing factors in the progression of kidney disease, and the association between kidney disease and heart disease.
Our research group is participating in a multicenter consortium serving as a clinical core site to study the pathogenesis of HIV-associated kidney disease by providing well-characterized clinical specimens and corresponding clinical and laboratory data.
Research Areas: kidney diseases, HIV, hepatitis C