David Olayinka Kamson, M.D., Ph.D.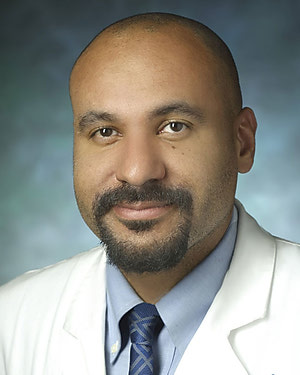 Assistant Professor of Oncology
Languages: English, Hungarian
Expertise
Brain Cancer, Gliomas, Metastatic Brain Tumors, Neurology, Oncology ...read more
Locations
Education
Degrees
MD; University of Pecs Medical School (2010)
Residencies
Neurology; University of Chicago Medicine Mitchell Hospital-Hyde Park (2018)
Fellowships
Neuro-Oncology; Johns Hopkins University School of Medicine (2021)
Neuro-Oncology; National Institutes of Health (2021)
Board Certifications
American Board of Psychiatry And Neurology (Neurology) (2018)
Research & Publications
Research Summary
I have a special interest in interfacing clinical outcomes and multimodality radiographic biomarkers using automated processing methods and machine learning and integrating these into the brain metastasis clinic. I am working on the development of quantitative PK/PD imaging methods and ways to translate and incorporate these into future clinical trials. It is my mission to ensure recruitment and retention of underrepresented patient populations into clinical trials.
Selected Publications
Estephan F, Ye X, Dzaye O, Wagner-Johnston N, Swinnen L, Gladstone DE, Ambinder R, Kamson DO, Lambrecht S, Grossman SA. White matter changes in primary central nervous system lymphoma patients treated with high-dose methotrexate with or without rituximab. J Neurooncol. 2019;145(3):461– 6.
Komáromy H, Mingchen. H, Perlaki G, Orsi G, Nagy SA, Bosnyák E, Kamson DO, John F, Trauninger A, Pfund. Z. Influence of hemispheric white matter lesions and migraine characteristics on cortical thickness and volume. J Headache Pain. 2019;20(1).
Ranjan S, Skorupan N, Ye X, Sivakumar A, Yankulina O, Kamson DO, Grossman SA, Dzaye O, Holdhoff M. Patterns of bevacizumab use in patients with glioblastoma: an online survey among experts in neuro-oncology. Neuro-Oncol Pract. 2020;7(1):52–8.
Khalafallah AM, Jimenez AE, Romo CG, Kamson DO, Kleinberg L, Weingart J, Brem H, Grossman SA, Mukherjee D. Quantifying the utility of a multidisciplinary neuro-oncology tumor board. J Neurosurg. 2020;1(aop):1–6.
Dresser L, Yuen CA, Wilmington A, Walker M, Vogel TJ, Merrell RT, Kamson DO. Estrogen hormone replacement therapy in incidental intracranial meningioma: a growth-rate analysis. Sci Rep. 2020 Oct 21;10(1):17960.
Is this you? Edit Profile