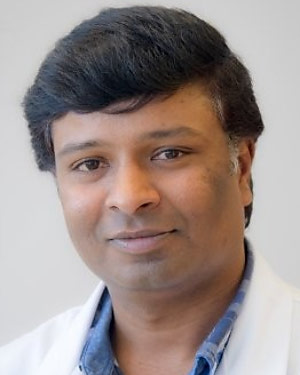 Principal Investigator:
Mohan Krishnan, Ph.D., M.S.
Department:
Pediatrics

Dr. Krishnan, Assistant Professor, received his Ph.D. in Biochemistry-Biotechnology from the University of Madras in 2008. He completed his postdoctoral fellowship in the Department of Pediatrics at the University of Alabama at Birmingham and Department of Pediatrics, University of Illinois at Chicago. After he worked as Research Associate in Department of Pediatrics at the University of South Florida, Dr. Krishnan joined the faculty at JHU in May 2018. His lab investigates the pathophysiology of Transfusion-associated Necrotizing Enterocolitis (TANEC) and Systemic Inflammatory Response Syndrome (SIRS) in premature infants who are at high risk of anemia and heavily transfused. Dr. Krishnan is dedicated to understanding the role of monocyte/macrophage in the neonate and investigating their inflammatory phenotype, function during anemia and/or RBC-transfusion associated NEC and SIRS.
Research Areas: Systemic Inflammatory Response Syndrome (SIRS), Transfusion-associated Necrotizing Enterocolitis (TANEC), pediatrics