Utthara Nayar, Ph.D.
Utthara Nayar, Ph.D.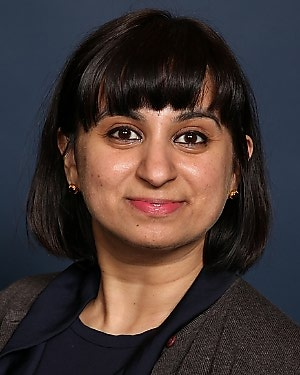 Joint Appointment in Oncology
Research Interests
Targeted Therapy Resistance in Metastatic Breast Cancer ...read more
Education
Degrees
Ph.D.; Cornell University (New York) (2011)
B.S.; University of Wisconsin (Madison) (Wisconsin) (2003)
Research & Publications
Research Summary
The primary reason for breast cancer mortality is the development of resistance, through largely unknown mechanisms, to targeted anti-estrogen therapies in ER+ MBC. Dr. Nayar recently identified acquired activating mutations in human epidermal growth factor receptor 2 (HER2), which activates the MAPK pathway, in patients with resistance, and demonstrated that these directly conferred resistance to anti-ER agents. Since MAPK-activation represents an emerging class of resistance whose incidence is rising in the clinic, a deeper understanding of the biology and therapeutic vulnerabilities of tumors bearing such mutations or related genetic alterations in the MAPK pathway is required. The scientific objective of Dr. Nayar's research program is to study tumor cell-intrinsic signaling, tumor evolution, and the tumor (+immune) microenvironment of resistant breast cancer, through cell, molecular, and large-scale genomic/epigenomic approaches, using MAPK-activated endocrine-resistant ER+ breast cancer as a model. Additionally, Dr. Nayar has spearheaded cancer variant-to-function screens (deep mutational scanning of oncogenic kinases), with the aim of identifying general rules to infer function/activity/resistance phenotype from cancer variant.
Lab
The Nayar laboratory is focused on the biology of therapeutic resistance in breast cancer. Dr. Nayar recently identified a subset of estrogen receptor-positive (ER+) metastatic breast cancer that is resistant to ER-targeted therapy by acquiring mutations in the growth factor molecule HER2. The laboratory aims to understand the mechanism(s) by which a tumor becomes resistant to targeted therapy, employing this subset of breast cancer as a model.
Lab Website: Nayar Lab

Technology Expertise Keywords
Breast cancer, cancer biology, cell biology, functional genomics
Selected Publications
Mao, P, Cohen, O, Kowalski, KJ, Kusiel, JG, Buendia-Buendia, JE, Cuoco, MS, Exman, P, Wander, SA, Waks, AG, Nayar, U, Chung, J, Freeman, S, Rozenblatt-Rosen, O, Miller, VA, Piccioni, F, Root, DE, Regev, A, Winer, EP, Lin, NU, Wagle, N. Acquired FGFR and FGF alterations confer resistance to estrogen receptor (ER) targeted therapy in ER+ metastatic breast cancer. Clinical Cancer Research. 2020 Nov 15;26(22):5974-5989
Wander, SA, Cohen, O, Gong, X, Johnson, GN, Buendia-Buendia, JE, Lloyd, MR, Kim, D, Luo, F, Mao, P, Helvie, K, Kowalski, KJ, Nayar, U, Waks, AG, Parsons, SH, Martinez, R, Litchfield, LM, Ye, XS, Yu, C, Jansen,VM, Stille, JR, Smith, PS, Oakley, GJ, Chu, QS, Batist, G, Hughes, ME, Kremer, JD, Garraway, LA, Winer, EP, Tolaney, SM, Lin, NU, Buchanan, SG, Wagle, N. The genomic landscape of intrinsic and acquired resistance to cyclin-dependent kinase 4/6 inhibitors in patients with hormone receptor-positive metastatic breast cancer. Cancer Discovery. 2020 Aug;10(8):1174-1193
Persky, NS, Hernandez, D, Do Carmo, M, Brenan, L, Cohen, O, Kitajima, S, Nayar, U, Walker, A, Pantel, S, Lee, Y, Cordova, J, Sathappa, M, Zhu, C, Hayes, T, Pancholi, P, Ram, P, Mikkelsen, TS, Barbie, DA, Yang, X, Haq, R, Piccioni, F, Root, D, Johannessen, CM. Defining the landscape of ATP-competitive inhibitor resistance residues in protein kinases. Nature Structural and Molecular Biology. 2020 Jan 10; 27: 92-104
Nayar, U, Cohen, O, Kapstad, CJ, Waks, A, Wander, S, Marini, L, Helvie, K, Oliver, N, Persky, N, Painter, C, Freeman, S, Lin, NU, Winer, EP, Ma, CX, Wagle, N. Acquired HER2 mutations in ER+ metastatic breast cancer confer resistance to ER-directed therapies. Nature Genetics. 2019 Feb 1; 51(2): 207-216
Nayar, U, Sadek, J, Reichel, J, Hernandez-Hopkins, D, Akar, G, Barelli, PJ, Sahai, MA, Zhou, H, Totonchy, J, Jayabalan, D, Niesvizky, R, Guasparri, I, Hassane, D, Liu, Y, Sei, S, Shoemaker, R, Warren, DW, Elemento, O, Kaye, KM, Cesarman, E. Identification of a nucleoside analog active against adenosine kinase-expressing plasma cell malignancies. Journal of Clinical Investigation. 2017 Jun 1; 127(6): 2066-2080. (PMID: 28504647)
Patents
Novel nucleoside analogs and use thereof in therapeutic treatment.
Patent # PCT/US2017/027590 |
This invention describes potential use of a family of nucleoside analogs in malignancies expressing adenosine kinase (ADK), in particular plasma cell tumors such as KSHV+ primary effusion lymphoma (PEL), and multiple myeloma (MM). The family of compounds described is under further preclinical testing for selected incurable plasma cell malignancies, and may move on to clinical trials pending safety and efficacy profiling. I characterized the compound from a screen, determined the mechanism of activation (phosphorylation by ADK) using genomics and in vitro studies- which led to the identification of ADK as a biomarker for response- and performed preclinical studies to demonstrate potent efficacy in mouse models of PEL.
Academic Affiliations & Courses
Courses and Syllabi
Introduction to Cancer Biology (120.625.81)
Johns Hopkins University Bloomberg School of Public Health

Cancer Biology (120.624.01)
Johns Hopkins University Bloomberg School of Public Health
2021 - 2021
Special Studies- Current Topics in BMB (120.872.01)
Johns Hopkins University Bloomberg School of Public Health

Activities & Honors
Honors
Women in Cancer Research Scholar Award, American Association for Cancer Research
Ruth L. Kirschstein National Research Service Award, National Institutes of Health
ASH Abstract Achievement Award, American Society of Hematology
AACR-Aflac,Inc. Scholar-in-Training Award, American Association for Cancer Research
NCI Transition Career Development Award (K22), National Cancer Institute/ National Institutes of Health
Memberships
American Association for Cancer Research, 2011 - 2021


Associate Member
Professional Activities
Member, Diversity and Inclusion Committee, 2020
Videos & Media
Lectures and Presentations
Acquired HER2 mutations in ER+ metastatic breast cancer confer resistance to ER-directed therapies
Oral Presentation, AACR Annual Meeting 2018
American Association for Cancer Research
Identification of a Novel Inhibitor That Selectively Targets NF-κB Activity in KSHV-Infected Lymphoma Cells
Oral Presentation, ASH Annual Meeting 2012
American Society of Hematology
A purine scaffold Hsp90 inhibitor has antitumor activity in KSHV-associated malignancies by suppressing vFLIP
Oral Presentation, AACR Annual Meeting 2012
American Association for Cancer Research
Is this you? Edit Profile