Marina Baretti, M.D.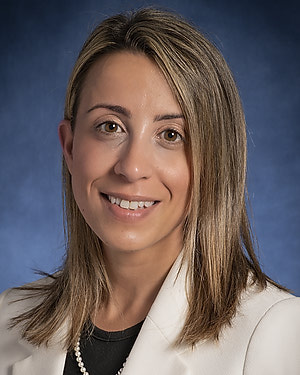 Assistant Professor of Oncology
Female
Languages: English, French, Italian, Spanish
Locations
The Johns Hopkins Hospital
1650 Orleans Street
Room 186
Baltimore, MD 21287
map
Phone: 410-955-7893 | Fax: 410-955-0548
Background
Titles
Assistant Professor of Oncology
Departments / Divisions
Centers & Institutes
Education
Degrees
MD; Universit? di Pisa Facolt? di Medicina e Chirurgia (2012)
Fellowships
Hematology and Medical Oncology; Johns Hopkins University School of Medicine (2021)
Medical Oncology; University degli Studi di Milano (2018)
Research & Publications
Research Summary
Dr. Marina Baretti is an oncologist in Baltimore, with an interest in translational research and a growing expertise in the care of gastrointestinal (GI) cancer patients, collaborating closely with laboratory-based researchers to move laboratory findings into patients and bring novel compounds to the clinic. Dr. Baretti has had outstanding success in developing a research program in hepatobiliary cancer at Johns Hopkins with her particular focus on studying the impact of epigenetic therapies as immune sensitizers. Dr. Baretti completed medical school at the University of Pisa, Italy, and she continued her medical training in Internal Medicine and Oncology at the University of Milan. She then performed a research postdoctoral fellowship and a fellowship in medical oncology at Johns Hopkins University School of Medicine. Dr. Baretti joined the Johns Hopkins faculty in 2021. Dr. Baretti was the recipient of the 2018 American Society of Clinical Oncology Young Investigator Award. Dr. Baretti was also awarded with the 2020 Career Development Award for the MD Anderson Cancer Center's pancreatic cancer NCI Specialized Programs of Research Excellence (SPORE). This award is designed to promote cutting-edge approaches to improve the treatment of GI cancer and foster extended collaborations in critical areas of cancer research among laboratory and clinical scientists.
Clinical Trial Keywords
Liver Cancer; Bile Duct Cancer; Cholangiocarcinoma; Epigenetics; Immunotherapy
Activities & Honors
Honors
2018 YIA Conquer Cancer Foundation for Cholangiocarcinoma, ASCO
Memberships
American Society of Clinical Oncology (ASCO)
American Association for Cancer Research (AACR)
European Society for Medical Oncology (ESMO)
Is this you? Edit Profile