Fabio Romerio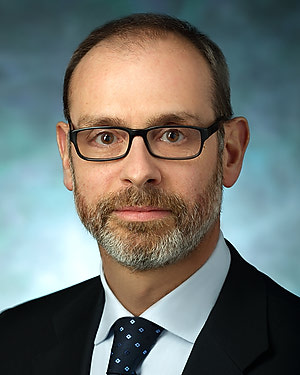 Associate Professor of Molecular and Comparative Pathobiology
Research Interests
HIV-1 persistence; HIV-1 cure; The HIV-1 antisense gene, ASP ...read more
Background
Titles
Associate Professor of Molecular and Comparative Pathobiology
Departments / Divisions
Molecular and Comparative Pathobiology
Education
Degrees
Laurea; University of Pavia (Italy) (1992)
Research & Publications
Research Summary
Dr. Romerio investigates the mechanisms that allow HIV-1 to establish a chronic infection. This has proceeded along several lines of study.
Dr. Romerio investigated the fate and function of plasmacytoid dendritic cells (PDC) in HIV-1 infection, and the role of IFN-alpha in T cell function. He found that the decline of PDC from peripheral blood of HIV-1 infected individuals reflects cell relocation to lymphoid tissues due to increased expression of lymphoid tissue homing markers. Dr. Romerio's studies also showed that in the absence of ex vivo stimulation, PDC of HIV-1 patients express 100- to 1000-fold more IFN-alpha compared to PDC of uninfected controls. Dr. Romerio also showed that chronic IFN-alpha exposure during T cell activation inhibits proliferation, and promotes the development of immune-suppressive IL-10-producing T cells. These phenomena recapitulate those observed in peripheral blood of HIV-1 infected patients.
Dr. Romerio's lab studies the biology of HIV-1 latency and persistence. In 2008, Dr. Romerio reported one of the earliest in vitro models of HIV-1 latency, which he later used to perform microarray analyses comparing resting latently infected and uninfected CD4+ T cells. Through this analysis, Dr. Romerio identified 33 transcripts encoding cell surface markers that are differentially expressed in latently infected vs. uninfected cells. He found that, among them, the surface marker CD2 is expressed at higher levels on latently infected compared to uninfected cells from HIV-1 patients. Resting memory CD4+CD2high T cells from all subjects harbored higher HIV-1 DNA copy numbers than all other CD4+ T cell subsets. Moreover, resting memory CD4+CD2high T cells produced more HIV-1 than other cell subsets. Thus, Dr. Romerio's studies show that high CD2 expression is a hallmark of latently infected resting memory CD4+ T cells in vivo.
Dr. Romerio's work on the mechanisms of HIV-1 latency focused on the HIV-1 ASP gene, which is encoded on the negative strand of the provirus, and is expressed from a promoter within the 3'LTR. Dr. Romerio's lab found that the ASP RNA acts as a viral latency factor that binds the Polycomb Repressor Complex 2 (PRC2), recruits it to the 5'LTR, inducing HIV-1 transcriptional silencing and latency. Dr. Romerio has made significant progress in elucidating the structure-function relationship of the ASP RNA by identifying the segments that interacts with the HIV-1 5'LTR, with PRC2, and with additional transcriptional and epigenetic silencing factors. Dr. Romerio has recently received additional funding support from NIAID with a new 5-year R01 to test the ability of the ASP RNA to induce durable silencing of HIV-1 and to impede spontaneous latency reversal as part of a new HIV-1 cure strategy.
More recently, Dr. Romerio begun undertaking a new line of research that focuses on the protein encoded by the ASP gene. This open reading frame encodes for a 190-aa long, highly hydrophobic protein that localizes in the nucleus of non-productively infected cells. Dr. Romerio reported that upon cell stimulation and viral reactivation, ASP translocates to the cytoplasm and to the cell membrane, where it can be found in close proximity of the HIV-1 envelope glycoprotein, gp120. Dr. Romerio also demonstrated that following viral budding and release, ASP is present on the envelope of HIV-1 particles, suggesting that it might be involved in viral entry. Indeed, mutations that knockout ASP expression reduce the replication capacity of HIV-1. Dr. Romerio's work is moving toward the identification of the putative cell surface ligand of virion-associated ASP. Targeting this interaction might have therapeutic benefits.
Current Funding
NIH/NIAID 5R01AI120008-05; QuantificationoftheHIV-1 ReservoirbyImmuno-PCR; Romerio: PI; 09/01/2015 - 01/31/2021 (NCE)
NIH/NIAID 5R01AI144983-01; Sustained HIV Remission via Sequence-Specific Epigenetic Silencing of Latent Proviruses; Romerio: PI; 03/08/2019 - 02/29/2024
NIH/NIAID 1R01AI150556-01A1; Determinants of reservoir contraction and expansion in vivo, ex vivo, and in vitro; O'Doherty: PI; Romerio: Investigator; 03/16/2020 – 02/28/2025
Current Post-doctoral Fellows
Zahra Gholizadeh, DVM, PhD
Mohd. Shameel Iqbal, PhD
Rui Li, PhD
Current Research Staff
Former Post-doctoral Fellows and Research Associates
Song Li, PhD; Lecturer, School of Chemical Biology and Biotechnology, Shenzhen Graduate School, Peking University, Beijing, China
Alessandra Marini, MD; LeadingPhysician, ClinicalTrialsUnit, IUF, Leibniz Research Institute for Environmental Medicine, Düsseldorf, Germany
Clara Lehmann, MD; Leading Physician, First Clinic of Internal Medicine, University of Cologne, Germany
Maria Iglesias-Ussel, PhD, PharmD; Clinical Trials Project Leader, Duke Clinical and Translational Science Institute, Duke University, Raleigh, NC
Juan Carlos Zapata, PhD; Assistant Professor, University of Antioquia, Medellin, Colombia
Yvonne Affram, PhD; On maternity hiatus
Annacarmen Petrizzo, PhD; Post-doctoral fellow, Italian National Cancer Institute, Naples, Italy.
Selected Publications
Affram Y, Zapata JC, Gholizadeh Z, Tolbert WD, Zhou W, Iglesias-Ussel MD, Pazgier M, Ray K, Latinovic OS, Romerio F. The HIV-1 Antisense Protein ASP Is a Transmembrane Protein of the Cell Surface and an Integral Protein of the Viral Envelope. J Virol. 2019 Nov 1;93(21). doi: 10.1128/JVI.00574-19. Print 2019 Nov 1. PubMed PMID: 31434734; PubMed Central PMCID: PMC6803264
Zapata JC, Campilongo F, Barclay RA, DeMarino C, Iglesias-Ussel MD, Kashanchi F, Romerio F. The Human Immunodeficiency Virus 1 ASP RNA promotes viral latency by recruiting the Polycomb Repressor Complex 2 and promoting nucleosome assembly. Virology. 2017 Jun;506:34-44. doi: 10.1016/j.virol.2017.03.002. Epub 2017 Mar 21. PubMed PMID: 28340355; PubMed Central PMCID: PMC5505171
Iglesias-Ussel M, Vandergeeten C, Marchionni L, Chomont N, Romerio F. High levels of CD2 expression identify HIV-1 latently infected resting memory CD4+ T cells in virally suppressed subjects. J Virol. 2013 Aug;87(16):9148-58. doi: 10.1128/JVI.01297-13. Epub 2013 Jun 12. PubMed PMID: 23760244; PubMed Central PMCID: PMC3754042
Lehmann C, Lafferty M, Garzino-Demo A, Jung N, Hartmann P, Fätkenheuer G, Wolf JS, van Lunzen J, Romerio F. Plasmacytoid dendritic cells accumulate and secrete interferon alpha in lymph nodes of HIV-1 patients. PLoS One. 2010 Jun 14;5(6):e11110. doi: 10.1371/journal.pone.0011110. PubMed PMID: 20559432; PubMed Central PMCID: PMC2885422
Marini A, Harper JM, Romerio F. An in vitro system to model the establishment and reactivation of HIV-1 latency. J Immunol. 2008 Dec 1;181(11):7713-20. doi: 10.4049/jimmunol.181.11.7713. PubMed PMID: 19017960
Is this you? Edit Profile