Eneda Toska, Ph.D., M.S.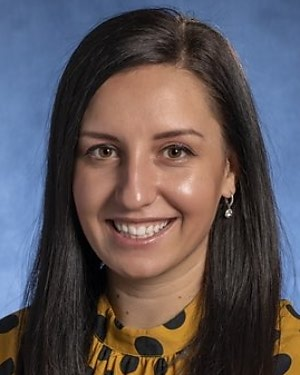 Assistant Professor of Oncology
Research Interests
Epigenetics; Breast Cancer; Genetics, Genomics and Gene Regulation; Cell Signaling ...read more
Background
Titles
Assistant Professor of Oncology
Departments / Divisions
Oncology - Cancer Invasion and Metastasis
Education
Degrees
B.S.; Nazareth College (New York) (2009)
M.S.; State University of New York (Buffalo) (New York) (2011)
Ph.D.; State University of New York (Buffalo) (New York) (2014)
Research & Publications
Research Summary
Our research focus is centered on elucidating the role that transcriptional and epigenetic regulators play in normal and cancer development, and therapeutic response. We are passionate about asking clinically relevant questions and translating basic laboratory findings into therapeutic applications to benefit cancer patients while at the same time providing new insights into the fundamental mechanisms of how epigenetic regulators regulate transcription and dictate cell identity. To achieve these goals, the Toska lab aims to undertake a multidisciplinary approach integrating biochemistry, cell signaling, genomics, and epigenomics at bulk and single-cell level, organoid technology, and mouse genetics to study the fundamental processes by which epigenetic regulators regulate transcription, cross-talk with signaling pathways, and have the ability to drive transformation and dictate therapeutic response in nuclear receptor-dependent cancers. Our laboratory will be comprised of scientists from different fields who are driven to study epigenetic regulation in normal and cancer development and to identify new therapeutic opportunities.
Lab
Lab Website: Toska Lab

Selected Publications
Arruabarrena-Aristorena A, Maag J, Kittane S, Cai Y, Karthaus W, Park J, Razavi P, Ferrando L, Kannan S, Selenica P, Cocco E, Ho S, Tan D, Sallaku M, Witkin M, Sawyers C, Reis-Filho J, Verma CS, Jauch R, Koche R, Baselga J, Toska E*, Scaltriti M*. FOXA1 mutations reveal distinct chromatin profiles and influences therapeutic response in breast cancer. Cancer Cell. 2020; S1535-6108(20)30414-1 *Corresponding
Xu G†, Chhangawala S†, Cocco E, Razavi P, Casi Y, Otto J, Ferrando L, Selenica P, Chan C, Ladewig E, Da Cruz Paula A, Witkin M, Cheng Y, Park J, Serna-Tamayo C, Zhao H, Wu F, Sallaku M, Qu X, Zhao A, Collings C, D'Avino AR, Jhavery K, Koche R, Levine RL, Reis-Filho JS, Kadoch C, Scaltriti M, Leslie CS*, Baselga J*, Toska E*. ARID1A determines luminal identity and therapeutic response in estrogen receptor-positive breast cancer. Nature Genetics. 2020; 52(2):198-207 †Equal contribution, *Corresponding
Toska E*, Castel P, Chhangawala S, Arruabarrena-Aristorena A, Chan C, Hristidis VC, Cocco E, Sallaku M, Xu G, Park J, Minuesa G, Shifman SG, Socci ND, Koche R, Leslie CS, Scaltriti M, Jose Baselga*. PI3K inhibition activates SGK1 via a feedback loop to promote chromatin-based regulation of ER-dependent gene expression. Cell Reports. 2019; 27(1):294-306. *Corresponding
Toska E, Osmanbeyoglu H, Castel P, Chan C, Hendrickson RC, Elkabets M, Dickler M, Scaltriti M, Leslie CS, Armstrong SA, Baselga. PI3K pathway regulates ER-dependent transcription in breast cancer through the epigenetic regulator KMT2D. Science. 2017; 355(6331):134-1330
Toska E, Campbell HA, Shandilya J, Goodfellow SJ, Shore P, Medler KF, Roberts SGE. Repression of transcription by WT1-BASP1 requires the myristoylation of BASP1 and the PIP2-dependent recruitment of Histone Deactylase. Cell Reports. 2012; 2(3):462-9
Academic Affiliations & Courses
Graduate Program Affiliation
Biochemistry and Molecular Biology (BMB) department, Johns Hopkins Blomberg School of Public Health
Activities & Honors
Honors
AACR NextGen Star Award 2021
Breast Cancer Research Alliance Young Investigator Award
Innovation in Cancer Informatics
Jayne Koskinas Ted Giovanis Foundation for Health and Policy
K22 NCI Transition to Independence Award
Memberships
American Association for Cancer Research (AACR)
Is this you? Edit Profile